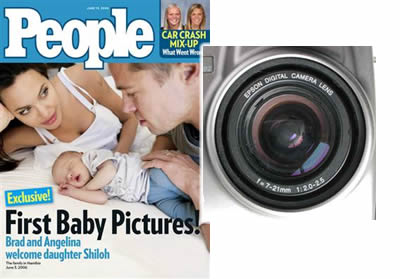 Il sito web finanziario Forbes ha fatto una lista delle fotografie di personaggi famosi più costose degli ultimi 10 anni. Al primo posto c'è la piccola Shiloh Nouvel Jolie-Pitt, la cui foto è andata per ben 4.1 milioni di dollari alla rivista People.
Al secondo posto troviamo Demi Moore e Ashton Kutcher per il loro matrimonio: 3 milioni di dollari dalla rivista OK!
Terzo posto a Eva Longoria e Tony Parker per le loro nozze, 2 milioni di dollari anche per loro dalla rivista OK!
Quarto posto Larry Birkhead con la bimba Danielynn (figlia di Anna Nicole Smith), per 2 milioni di dollari dalla rivista OK!
Quinto posto per Pax Thien, bambino adottato da Angelina Jolie. Per 2 milioni di dollari foto concesse alla rivista People.
Al sesto posto Anna Nicole Smith/Howard Stern per il matrimonio: 1 milione di dollari dalla rivista People.
Settimi a pari merito:
Sean P. Federline e Britney Spears per 500.000 dollari alla rivista People
Per le prime foto della coppia Jolie-Pitt, 500.000 dollari alla rivista US Weekly
Le prime foto di Angelina Jolie incinta, 500.000 dollari alla rivista People
Al decimo posto troviamo ancora Anna Nicole Smith con il figlio Daniel, 400.000 dollari dal settimanale In Touch.
OSCAR INSPIRED RED CARPET DRESSES
Become the "Cynosure of the Party" on this evening by choosing our wide range of Oscar inspired red carpet dresses. Inspired by the most pretty and attractive singer and movie star designs on the red carpet by the celebrities here is a wide range of our collection which offers you to select Attire that fits you to have a celebrity look.
Fabulous prom dresses, bridesmaid evening gowns, celebrity formal gowns, cutout dresses that are specially designed by our designers by taking special care to bring "Elegance" and "more sexy" look to you. Available in variety of attractive colors such as ivory white, burgundy, red, shiny blue, graceful black, pleasant cream and many more which will make you happy to choose from a wide range of varieties.
A dream to appear like a star is right now in your hand at one click. Grab the wonderful collection at the earliest by selecting the size that suits you best.
Autore
: Melissa
Data
: 20-07-2007
Categorie
:
Senza categoria
Tags
:
Commenti disabilitati

su Le foto vip più care degli ultimi 10 anni